Introducing Sheet Stay-Downs™ an innovative Fitted sheet fastening strap --- $19.95/kit.

USA made Fitted sheet corner straps with Velcro length adjustment from Holdup Suspender Company

---
L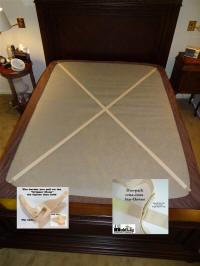 eave it to Sal Herman to build a better fitted sheet fastener or sheet strap to cure the common problem of fitted bed sheets coming loose as you toss & turn in bed. These work great on Motorized beds and on thicker pillow top mattresses and even make water beds sheets Stay-Down. Holdup's bedding corner straps are called Sheet Stay-Downs™ and are sold in two lengths and attachment styles. Both feature our Patented composite plastic Gripper Clasp© and USA made soft elastic strap with a built-in Velcro Type smooth length and strap tension adjustment system (USA Patented) .
The DUO (2 per pack) are longer bedding Stay-Down mattress suspenders adjustable to fit diagonally across any twin to king sized mattress... no matter the thickness. The other style is the Quad (4 per pack) Stay-Downs made to attach diagonally at the corners of your bed and they adjust at either end using the Velcro type adjustment strip feature. Easy to use with sheets, pillow or feather bed tops, or motorized hospital bed mattress covers. All will be tightly held in place without harming any delicate fabric... unlike our competitor's inferior clips that pull loose with moderate pressure. Browse the below interactive slideshow and purchase both bedding corner fastening strap styles below for $19.95/kit. We guarantee these are the finest sheet straps, sheet corner fasteners, elastic sheet garters, or fitted sheet gripping holders you can buy and back this up with a 30 day 100% satisfaction money back offer... Unlike our competitors our Sheet Stay-Downs have gripper clasps that will holdup throughout years of use that hold tigher the harder you pull on them.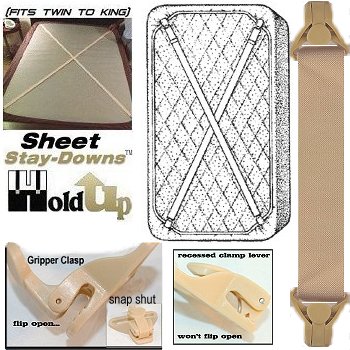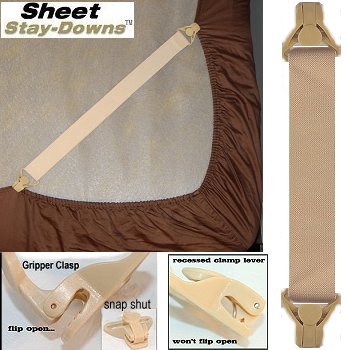 Testimonial: Hi there Holdup Suspender Company,
I thought that I should bring this to your attention regarding the uniqueness of these sheet stay-ups. They are the only ones on the market (I tested many) that the tension adjustment is set after the clips are attached to the sheets. Because of this just one person is easily able to attach your Stay-Down straps to the sheets without lifting the mattress. All the others have a metal locking adjuster, which has to be set prior to clipping it to the sheet. It is too hard to set the tension with the metal adjusters after the clips are attached unless some one else helps by lifting the mattress. Often the inferior clips pop loose or break after one use. With your hook and loop type tension adjustment, the Gripper Clasps are attached while the soft elastic straps are loose... then tightened. With the others the strap has to be made shorter and attached while being taut, which makes it much harder for one person to attach. Hope this will lead to another Holdup product patent.... Carl and Sylvia Wilson ... Little Rock Al.
Securely Order below. Orders over $75 get free freight.
DUO (2 pack kit) Sheet Stay-Downs™ the Fitted Sheet strap that works corner to corner on any size mattress!

QUAD (4 pack kit) Holdup mattress corner strap Stay-Downs™. Perfect also for securing Fitted Crib Sheets and wet barrier bedding making these help prevent SID crib deaths..

click Images
To see details


Clasp sewn on one end with other end loose for length adjustment. Works across the gap on fitted crib sheets to prevent infant from pulling sheet and wetness barrier over their face.
All Holdup purchases have a 30 day money back guarantee for your complete satisfaction and our secure shopping cart allows for UPS or Post Office shipping options.
STAY-Downs™ a new patent pending Holdup Suspender Company innovative product based upon our Gripper Clasp and Patented no-slip clips...
All Holdup purchases have a 30 day money back guarantee for your complete satisfaction and our secure shopping cart allows for UPS or Post Office shipping options. These fitted sheet fasteners sell for 19.95 per long or short sets in our retail kit
Features of the new Sheet suspender straps called Stay-Downs™ that set them apart... If your looking for the perfect way to keep your bed's fitted sheets taunt and in place without any hassles then place your trust the Holdup Brand of mattress suspenders...
Sheet Stay-Downs™ are two adjustable USA made adjustable elastic straps that hold even older, flat and larger king size sheets firm and smooth. Attaches without lifting your mattress. Four easy flip open patented Gripper Clasps hold tighter the more you pull on them ... without ever damaging sheets and mattress covers.

The Holdup brand design of Sheet Straps works with all beds, mattresses and sheets ...
From California Kings to Baby's Cribs, even filled waterbeds! Use with fitted, deep-fitted, European flat, silk/satin and pillow tops or feather bed mattress topers. Holds larger sheets on smaller beds and can be the only cure for older fitted sheets that have lost corner and side elasticity.

Common use instructions: (Stay-Downs' longer straps run corner to opposite corner without lifting the mattress) Our Mini size sheet corner straps just attach across the corners and also will stand up to movement... such as adjustable motorized hospital beds. Clamp it and forget it till the next wash!... Click to see Duo instruction image
1. Put fitted sheet on. Lift the corner of the sheet a little, clamp the Gripper Clasp of our Stay-Down Sheet strap firmly onto the sheets elastic corner hem and tuck sheet corner back under mattress.

2. Walk the Stay-Downs sheet strap along side of bed, while slipping the strap under the mattress to the opposite front corner with soft underside of strap facing the mattress bottom. Lift corner of sheet a little and clamp the Gripper Clasp... then tuck sheet corner back under.

3. Repeat steps 1 & 2 on opposite corners to form an "X". Slides should face foot of bed for adjustments. Save Time: Leave Stay-Down straps in place when changing out bottom sheets


Filled waterbed instructions: (straps run head to foot) 1. Tuck Stay-Down suspender strap along side of filled waterbed as far as your hand will go, leaving clips at eye view. Repeat on other side. 2. Put fitted sheet on and hook Gripper Clasps to corners of waterbed sheets. Plastic clasps won't harm or placr holes in your waterbed.

Sheet changing instructions:1. DO NOT LIFT THE MATTRESS! The weight of the mattress keeps Holdup Stay-Down straps in place after initial install. Lift the four corners of fitted sheet a little, unclip and put new sheet on and re-clasp the four corners. Cut yourself some slack. You do not have to make the Stay-Down straps taunt before attaching to sheet corners as it a simple one man task to tighten them with the simple Velcro Type strip (Hook & soft loop) built right into the durable elastic fabric.

Other uses for the Short or Long Stay-Downs™: Waterbeds (run straps down the sides top to bottom) adjustable beds, sofa beds, Couch covers ( Use the Quads) bunk beds, motor home, Boat & camper beds. Will even hold your ironing board cover tight, your picnic bench cover down. These also make great pillow straps to hold pillows in place when raising the head section of a hospital bed
Our unique sheet clamping solution doesn't require lifting the mattress or additional helper!

These Stay-Down Sheet straps work great on Baby Crib Sheets & Hospital Beds too...
Our unique sheet clamping solution doesn't require lifting the mattress or an additional helper as this design and clasp just clamps to opposing bedding corners and slides underneath the mattress! Short corner straps also used with Baby Crib sheets, pads and clamp baby bedding under crib mattress keeping your baby from suffocating on loose wetness barrier pads.... :-)
See some more unique Holdup products for medical purposes here www.MedicalSuspenders.com
---
New 2" wide Under-Ups in 4 styles including two Extra Long XL models for $3 more. If you wear loose fitting shirts with pants or shorts you'll love the the extra comfort of our 2" wide undergarment suspenders made to fit the bigger man. The 2" wide XL models at for guys over 6' Tall.
2" Hip-Clip Under-Ups Click here... or 2" wide Traditional 4 strap 4 clip Under-Ups including XL models and buy from the totally redesigned web site Suspenders.com which are priced from 21.95 to 24.95 for the XL models. found! Holdup Suspender Company has the cure for frustrated suspender wearers all over the world who are tired of suspender clips that keep slipping off their pant waistbands. Our exclusive no-slip clip is guaranteed to never slip-slide or pop off your pants. We now also feature the Composite Plastic Gripper Clasp™ in various Holdup Suspender Series. Browse through our men's suspender styles shown on the left side navigation bar with links to all the suspender category sections. You can also SEARCH our eCatalog from the Top & bottom of most pages or begin shopping suspenders right from this page.